Edamame is a type of soybean that is often eaten as a snack. It is a popular food among health-conscious people because it is high in protein and low in fat. Edamame is also a good source of fiber and vitamins.
Many people wonder if edamame is safe for their dogs to eat. The answer is yes. Dogs can eat edamame. However, it is important to feed edamame to your dog in moderation.
Read on to learn more about the benefits and risks of feeding edamame to your dog.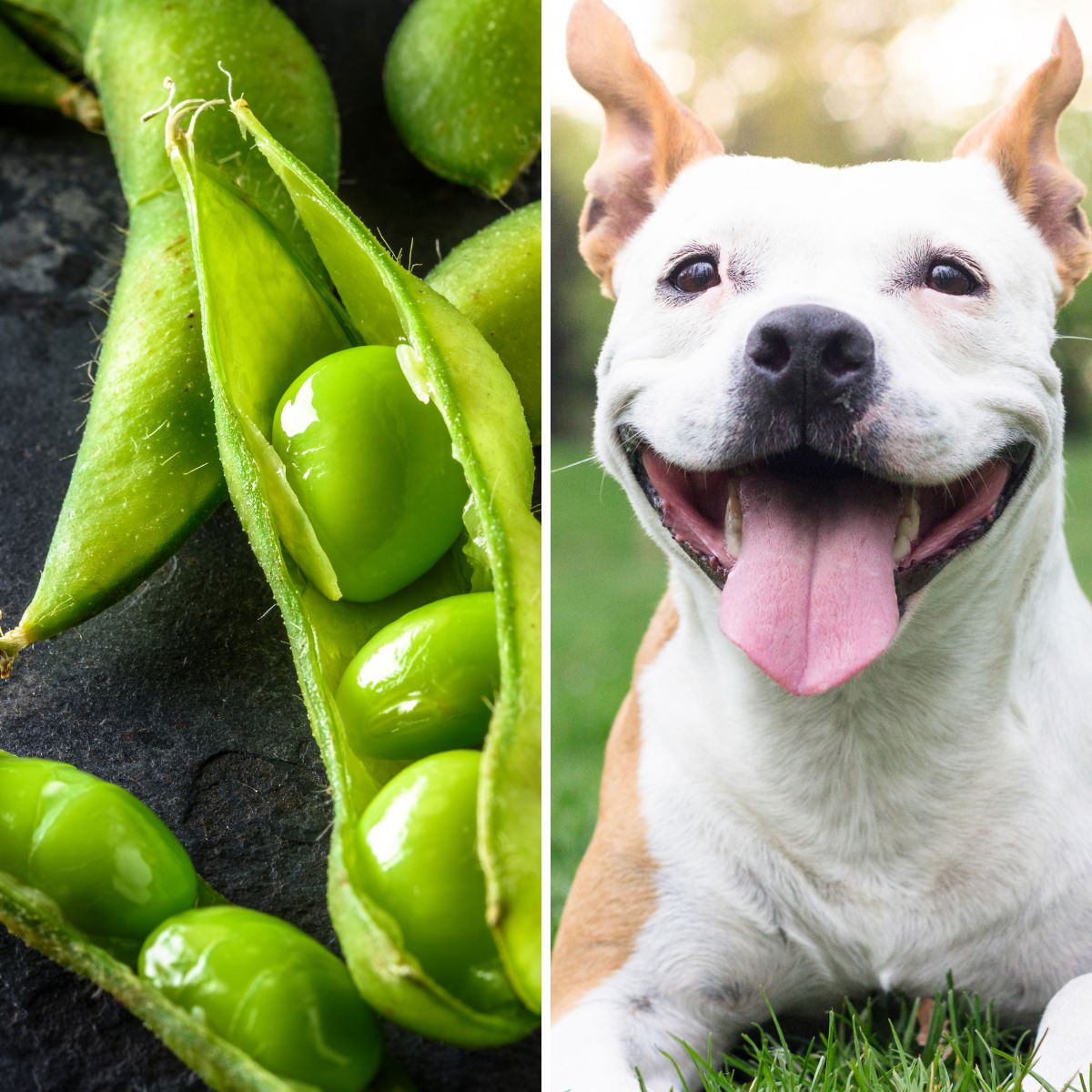 Jump to:
Can My Dog Eat Edamame?
Plain edamame beans are safe for dogs to eat. In fact, they can be a healthy treat or addition to your dog's diet. Edamame beans are a great source of fiber, protein, and essential vitamins and minerals.
However, edamame beans that are flavored or salted are not safe for dogs to eat. The salt and other seasonings can be harmful to your dog's health. Stick to plain, unsalted edamame beans if you want to feed them to your dog.
Always supervise your dog when they're eating any type of food, including edamame beans. Talk to your veterinarian if you have any concerns about feeding edamame beans to your dog. They can advise you on how many beans your dog can safely eat.
Is Edamame Good for Dogs?
Edamame is a high-protein food that contains all the necessary amino acids for canine health. It also has antioxidants that help protect your dog's cells from damage and boost their immune system. Edamame is low in fat and calories, making it a good option for dogs who need to lose weight or are prone to obesity.
Edamame can help improve your dog's digestive health. It is a good source of fiber, which helps keep their bowel movements regular. Edamame is also a good source of prebiotics, promoting healthy bacteria growth in your dog's gut.
Edamame beans are full of vitamins and minerals, too (although there won't be a drastic change in your dog's overall health if they eat small servings of edamame beans). They are a good source of:
Omega 3: Good for your dog's coat, skin, and joints
Calcium: For strong bones and teeth
Vitamin C: An antioxidant that boosts your dog's immune system
Protein: For muscle growth and repair
Can I Give My Dog Edamame as a Treat?
We know edamame is healthy for us, but can we share it with our dogs? The answer is yes—in moderation. Edamame is safe for dogs to eat as long as they're cooked and not salted.
Raw or undercooked edamame beans can be hard on a dog's digestive system, so it's best to err on the side of caution and cook them before giving them to your pup. You can steam, boil, or microwave edamame beans. Once they're cooked, you can give them to your dog whole or mashed up.
Remember that even though edamame is a healthy treat, it should only make up a small part of your dog's diet. Dogs don't need soy in their diet, so there's no nutritional advantage to feeding them edamame.
When giving your dog any new food, always start with a small amount to see how they react. Some pups might be allergic to soy, so it's best to introduce it slowly. If you notice any adverse effects after feeding your dog edamame, consult with your veterinarian and watch out for symptoms like:
Vomiting
Diarrhea
Skin irritation
While edamame pods are not toxic to dogs, the beans inside can be difficult to digest. If your dog swallows a pod whole, it could cause an internal blockage. To avoid this, make sure to remove the beans from the pods before giving them to your dog.
You should also avoid giving your dog salted edamame, as this can cause an upset stomach.
How to Serve Your Dog Edamame
Make sure to cook the edamame before feeding it to your dog. You can either steam or boil the edamame. Once it's cooked, you can mash it up or leave it whole. If you're giving your dog mashed edamame, make sure there are no large pieces that could pose a choking hazard.
Avoid processed edamame snacks, as they often contain other ingredients that are not safe for dogs, such as sugar or salt.
Make sure to introduce edamame slowly into your dog's diet to avoid stomach upset. Start with a small amount and increase gradually over time.
Happy Pup, Healthy Pup!
Edamame is a healthy treat for dogs, as long as it is cooked and not salted. Remember to introduce it slowly into your dog's diet and avoid giving them edamame snacks that may contain other ingredients that are not safe for dogs. If you have any questions about adding edamame to your pup's diet, consult with your vet.