Bananas are a delicious and healthy snack for humans, but can our canine friends enjoy them as well? The answer is yes! Bananas are safe for dogs to eat in moderation. In fact, they offer many health benefits that make them an excellent treat for your pup.
Read on to learn everything you need to know about feeding bananas to your dog.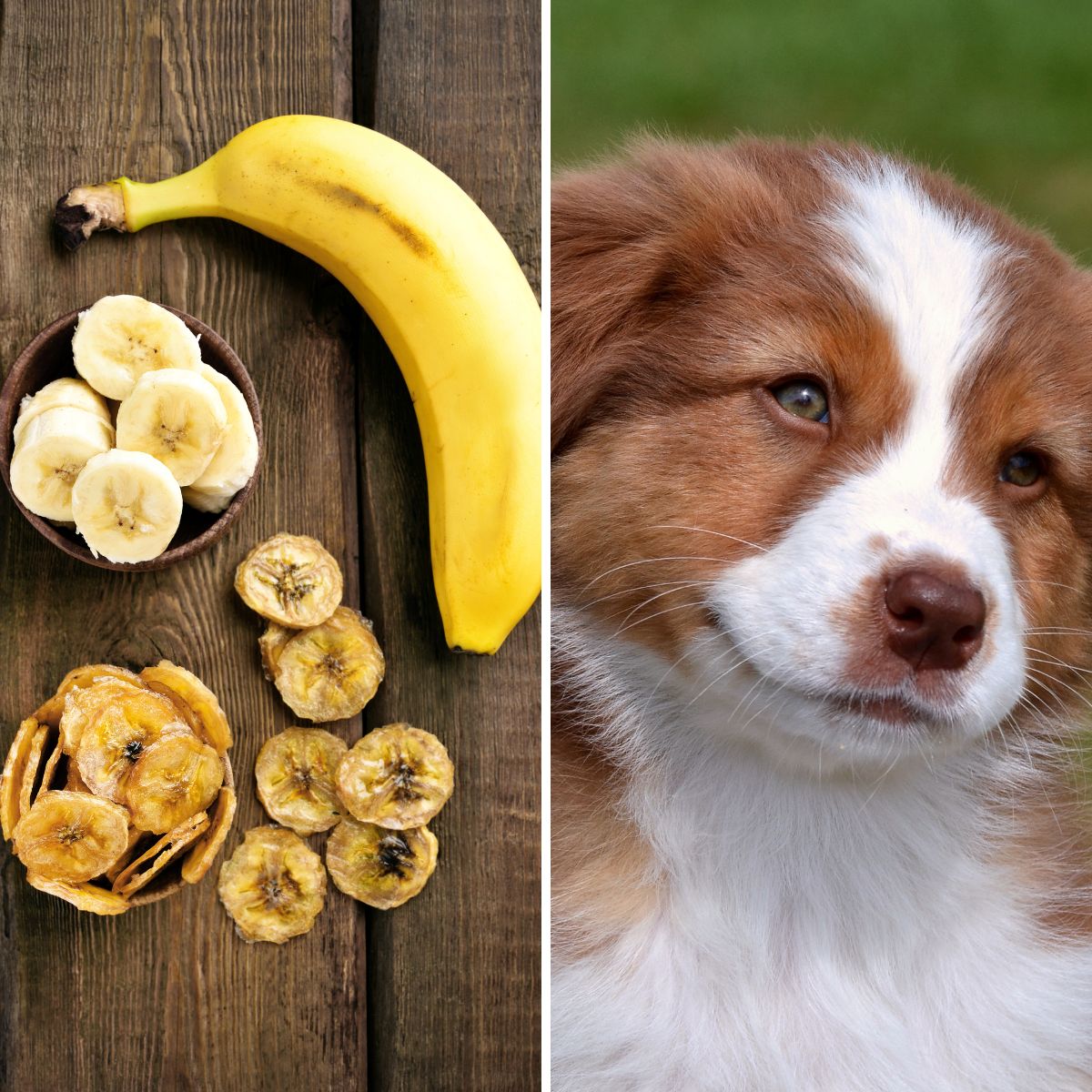 Jump to:
Can My Dog Eat Bananas?
Bananas are a fruit that is high in potassium and other nutrients that are good for your dog. They can help regulate blood pressure and heart function and strengthen bones and teeth. Bananas also contain antioxidants that can help fight free radicals in the body, which can cause damage and lead to disease.
Bananas are a great snack for dogs and can be given as part of a balanced diet. However, they should not be given to dogs in large quantities, as they can cause digestive problems.
Too many bananas can also lead to weight gain in dogs. A small piece of banana as a snack is a healthy and tasty way to give your dog some added nutrition.
Are Bananas Good for Dogs?
Bananas are an excellent source of vitamin C, dietary potassium, vitamin B6, and dietary fiber. They also contain antioxidants which can help protect cells from damage. This makes bananas a good choice for dogs, who can benefit from the nutrients they provide.
Bananas are especially beneficial for dogs who are pregnant or nursing. They can help ensure that the dog has a healthy pregnancy and provides the necessary nutrients to the puppies after they are born. Bananas also help increase the milk production of nursing mothers.
Some vitamins, minerals, and other nutrients found in bananas include:
Fiber: Supports proper digestion, helping in the prevention of diarrhea and constipation
Potassium: Helps to regulate blood pressure and heart function
Vitamin C: Helps boost the immune system
Vitamin B6: An essential coenzyme that helps the body break down proteins
Antioxidants: Help protect cells from damage
Can I Give My Dog Bananas as a Treat?
Bananas are a popular fruit that many people enjoy and are also a favorite treat for dogs. They're nutritional, and they taste good, too. So it's no wonder some dog owners may be curious if giving their furry friend a banana is okay. The answer is yes. You can give your dog bananas as a treat. But there are a few things to keep in mind.
First of all, not all dogs will love bananas. Some dogs may turn their noses up at them or, even worse, may get sick from eating them. So it's always best to test out whether your dog likes bananas before giving them too many.
Start with just a small piece of banana, and see their reaction. If they enjoy it and have no adverse reaction, you can add bananas to your pup's diet.
Eating excessive bananas may cause your dog to experience diarrhea. This is because bananas contain a lot of sugar. When too much sugar is consumed, it can cause an upset stomach or diarrhea. So it's important to give your dog bananas in moderation.
Some symptoms to watch out for in your dog if they have eaten too many bananas include:
Vomiting
Lethargy
Diarrhea
If you notice any of these symptoms, it's best to take them to the vet right away.
Banana peels can also be dangerous for dogs. They can cause choking or blockages in the digestive system. So it's important to make sure that you remove the peel before giving your dog a banana.
How to Serve Your Dog Bananas
There are several ways you can serve bananas to your dog:
Slices: Serve unpeeled banana slices to your dog as a healthy and tasty snack. Bananas are a good source of nutrients and provide some crunchy texture dogs love.
Frozen: Peel a banana and cut it into small pieces. Freeze the pieces overnight. Give your dog one or two frozen banana pieces as a special treat on hot days.
Mashed: For a delicious and healthy topping on your dog's food, mash up a banana and spread it over their kibble or wet food. Bananas are packed with nutrients and make a great addition to any meal.
Bananas are a healthy and delicious treat that your dog will love. Serve them in sliced, frozen, or mashed form for a nutritious snack or mealtime topping.
Happy Snacking!
So, there you have it. Bananas are a great treat for dogs as long as they're given in moderation. Be sure to remove the banana peel before giving your pup a piece, as it can be hard for them to digest. And, as always, check with your veterinarian before making any dietary changes to your dog's routine.